What Can Exellison Offer?
ExEllison Manufacture:
Packaged substations
Main distribution switchboards
Bespoke extension panels
Sub-distribution equipment
ACB replacements
Transformer Enclosures
Power Factor Correction Equipment (conventional and real-time)
Switchgear-Retrofit.com:
ACB Retrofits
Fuse Switch Retrofits
MCCB Retrofits
Servicing
Circuit Upgrades
Extension Panels
Section Replacements
Phased switchboard Replacement
Control system upgrades
Change-over scheme upgrades
Protection Upgrades
Transformer upgrades
Power Factor Correction upgrades
Site surveys
Fault-finding
Through Partner Companies:
HV Equipment
Motor Control
Process Control
Building Managemen
Custom Switchgear Designs
At ExEllison we pride ourselves in our design capabilities. The core of our business is the ability to produce bespoke designs to provide the customer with the functionality and security that he requires. The directors have over 40 years of experience in designing electrical distribution equipment and understand the need for robust system engineering. We utilise the latest 3D design tools enabling us to produce detailed pre-production product CAD models. This enables us to verify our designs at the customer's premises and explore different variations to produce the best-fit solution.
Switchgear Services
Once the system has been designed, ExEllison use a combination of in-house labour and partner sub-contract labour to perform full installation projects. We are able to provide a turnkey service in electrical projects, including installation, testing and commissioning. Site work is carried out to strict guidelines and according to all current regulations. The benefit to the customer is a single point contact responsible for the entire project.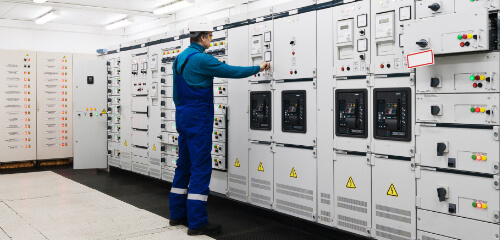 Maintenance
Once the system has been installed, many manufacturers are unable to support it over the long service life of the equipment. ExEllison maintain detailed records of equipment supplied on every project. This allows us to maintain and upgrade equipment over its entire lifespan. Our services include:
Routine Maintenance
Condition Monitoring, including thermographic surveys
Upgrades and modifications
Emergency Repairs